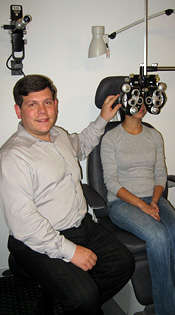 Optometry Services
Eye Exams »
LATISSE Eyelash Treatment »
Eye Disease Detection and Treatment »
Contact Lenses »
Eyeglasses »
Eye Exams
Our comprehensive eye examination uses the latest state-of-the-art instrumentation, and includes tests for:
visual acuity
eye muscle balance
binocular vision status
color vision
depth perception
internal and external eye health
tonometry (glaucoma test)
visual fields
refraction
Other tests may be necessary as your condition warrants. Please bring your current eyeglasses and/or contact lenses with you, along with a list of all your current medication and health conditions.
Doctor Eyecare is pleased to offer the Canon Digital Retinal Camera for an enhanced exam experience.
Latisse Eyelash Treatment
Dr. Safir is fully certified to prescribe LATISSE, the first and only FDA-approved prescription treatment used to grow eyelashes, making them longer, thicker, and darker.
How does Latisse work?

The LATISSE topical treatment is designed to target and enhance the normal growth phase of eyelash hair by both increasing the length of this crucial phase and multiplying the number of hairs grown during this time. If you stop using LATISSE, eyelashes will gradually return to their previous appearance.
How quickly will I see results?

Eyelash growth with LATISSE is gradual, and fills in naturally over time. Initial changes may be visible around four weeks with longer, thicker and darker effects peaking at 16 weeks. At four months, 78% of those in a LATISSE clinical study showed significant increase in overall eyelash prominence.
How do I obtain a LATISSE prescription?

Call Doctor Eyecare at 214-522-3937 to schedule your LATISSE evaluation and find out if LATISSE is right for you.
LATISSE is a registered trademark of the Allergan Corporation
Eye Disease Detection and Treatment
Dr. Safir is fully certified to provide specialized services in disease detection and treatment, including:
foreign body removal
cataract evaluation
diabetic dilated exams
glaucoma treatment
treatment of red eyes and eye infections
dry eye assessment and treatment (including punctual occlusion)
monitoring for toxic ocular effects of medications
eye injury and trauma assessment
Contact Lenses
Dr. Safir is highly experienced in fitting all types of lenses, including disposables, gas permeable, bifocal, and specialty toric lenses for astigmatism. We have the latest colors available in cosmetic lenses, whether you need vision correction or just want a fashionable new look. We keep a stock of several thousand lenses, which means that often our customers can take their new contact lenses home with them the very same day.
Included in every contact lens evaluation are your initial pair of diagnostic lenses, contact lens solution, and a storage case. If you are unsure whether contact lenses are right for you, ask for a contact lens consultation when making your appointment.
Eyeglasses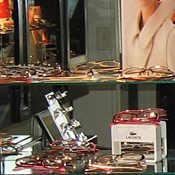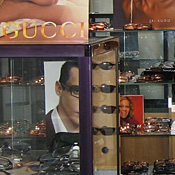 We offer a wide selection of stylish designer eyeglass frames, so you will be sure to find a pair to fit your unique personality. Glasses are sent out to a lab for precise grinding and installation. Then we carefully adjust the frames to your face to make sure you get the best fit possible.